You have over 20 pricing options available, from yearly subscriptions to lifetime licenses.
This way, you can invest exactly as much as you need and use Essential Grid to its maximum potential.
Check out the variety of pricing models below and choose your favorite!
What's Included?
To keep things simple, all of our licensing plans include full access to all Essential Grid features.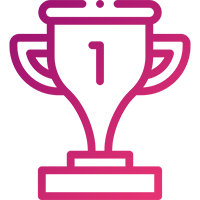 Core Plugin
The Essential Grid plugin, including grid layout editor and grid skin editor.
60+ Grid Templates
Access to our growing library of professional, ready-to-go grid templates
Instant Updates
The latest version always available with 1-click installation
Ticket Support
1on1 ticket support by highly trained professionals (6 months for one-time payment licenses)
Trusted By
400.000

Users

4.77 stars average rating on Codecanyon
Got A Question?
Let us help you by answering the most frequently asked questions about Essential Grid.
Where to find my invoice and how to start a VAT refund after purchasing?
Every purchase has it's unique invoice. Here is how to find your invoice and how to submit your VAT number, if needed:
https://www.sliderrevolution.com/faq/vat-refund/
I want to include Essential Grid in my theme. Which license do I need?
Bundling Essential Grid with a theme/template can be done with an extended license.
One extended license is required per theme /template, you want to include Essential Grid in.
Please read more on our Licensing page.
What is the benefit of importing a CodeCanyon license?
You are able to manage all licenses comfortably through our dashboard.
Additionally, after Importing licenses purchased on CodeCanyon, you will receive a one-time use special offer:

You can purchase any subscription plan or a one-time payment license with a 20% discount in the first year.
What is the difference between the license sold on Codecanyon and here?
The old Codecanyon license model offers access to most features at a fixed price, except for customer support which needs to be renewed every 6 months.

With the new subscription license model, we made sure to find a fair yearly price point, with Everything included.
For more information on licensing, please take a look at our Licensing terms.
Check out the next question to see the "One-Time Payment" license being explained.
What happens if my subscription runs out?
If you cancel your subscription and it runs out, you will lose access to the Essential Grid premium features like the template library, addons, object library, plugin updates, and customer support.
Renewing the subscription for this particular domain will let you regain access to all the features.
I received Essential Grid bundled with a WordPress theme. Can I still upgrade to access Premium features?
Yes! If you want to access all Premium features like the template library, addons, object library, updates and customer support, you can opt-in to one of our Licensing plans.
I purchased a license. How do I get started with Essential Grid?
Our powerful Help center offers all kinds of resources to answer any question you might have about Essential Grid:
The brand new manual, FAQs, video tutorials, definitions, version history, and support ticket center will make sure you are not feeling stranded at any point.
For beginners, we recommend starting with the Quick Setup part of our manual.
Can I use Essential Grid for commercial projects?
Yes. Essential Grid, including all templates and assets, can be used in your commercial projects.
Please take a look at our Terms & Conditions for more information.
Learn more about Essential Grid in our Help Center.
What is the "One-Time Payment" license?
Our "One-Time Payment" license, is essentially a discounted version of the CodeCanyon regular license.
Similar to the CodeCanyon license, with our "One-Time Payment" license, you pay once and get access to all Essential Grid Premium features and 6 months of ticket support.
The support for my lifetime license ran out.
How can I receive customer support?
In order to receive access to our Ticket support, you can purchase a one-license subscription.
This will grant you access for one year or until you cancel the subscription and it expires.
As long as you have at least one active subscription in your account, you will be eligible for our Ticket support.
You can also consult our constantly updated Help center which will provide quick answers to almost any issue.
What payment methods can I use?
We are using the secure and widespread payment processor Paddle. We currently support credit cards, PayPal and Apple Pay.
How to add my address and VAT number to my invoice?
Please follow this article from our FAQ section that was written with the VAT refund in mind but actually covers this topic too: https://www.essential-grid.com/faq/vat-refund/